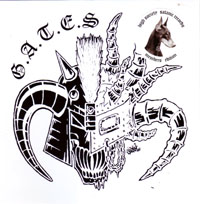 MPDS!G.A.T.E.Sの、先日リリース、瞬殺となったMLP「Devastation」収録のナンバー「Bood Sucker」のテイク/バージョン違いを、片面のみに収録した、限定160枚のみ(!)製造された完全ダイハードMPDSコレクター仕様の危険なEPがHIGH SOCIETY SATANIC RECORDSより!ジャケは、おなじみBludwulfのSINN画伯によるMPDS SACRIFICEな描き下ろしイラスト、このレーベル特有のギロチン・スリーブ仕様、FOR DIEHARD MPDS MEMBERS ONLY!再入荷はしません!
it contains a differnt version of "Blood Sucker"from DEVASTATION MLP.
one sided 7" limited 160 copies made. the cover artwork is drawn by Jimmi
Sinn. there's no other differnt sleeve or edition. just "memeber edition" only (though i haven't got approved by other members)
for diehard collectors only. don't miss it!