VA-MAXIMUM ROCKNROLL presents SOUND THE ALARMS!! 2xLP ¥2500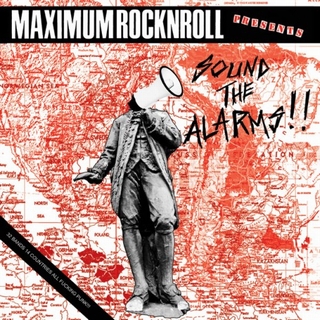 世界PUNK/HC発信基地、MRRからの2014年初頭リリースのワールドワイドPUNK/HC Comp2枚組!既にレーベルソールドアウトですが入荷!
14カ国32バンドが参加、そしてMRRお得意の各バンドのアートワークが載った36ページブックレットも付属!
当店でも人気の SILLA ELECTRICAやCFD/VACCUUMのRobertも在籍のNO STATIK、ex-CONDENADAのVoの新バンド、PERMANENT RUIN、Saira嬢やSAD BOYSメンバーも在籍のQUESTION、などなど!!
MULLTUTE, SILLA ELECTRICA, SYNTHETIC ID, TOTAL WAR, NO STATIK, DICTADURA, PERMANENT RUIN, VIVISEKTIO, GIFFORDS TREATMENT, QUESTION, THE FIGHT, LOTUS FUCKER, RUIDOSA INMUNDICIA, ANTI YOU, VERRUGAS, ORDEN MUNDIAL, KUUDES SILMA, NUCLEAR SPRING, GUTTER, ENTRE REJAS, ESTAMPIDO, SIETOKYKY, HONDARTZAKO HONDAKINAK, I.R.A., PANDEMIA, DHK, KVOTERINGEN, KONTATTO, LEI DO CAO, CULO, MAAILMANLOPPU, OBEDIENCIA.
VA-not so quiet on the western front 2xLP+DOWNLOAD ¥2200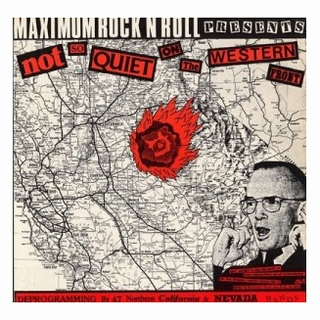 MRRとALTERNATIVE TENTACLESプレゼンツ、オリジナルは82年リリースの北カリフォルニア&ネバダのバンドを集めた2枚組Comp LP!2013年再発盤!
ダウンロードコードつき、そしてオリジナル同様、MRR Vol.0とされた各バンドのアートワークが載った48ページブックレットつきです!
1. INTENSIFIED CHAOS "Intensified Chaos"
2. SOCIAL UNREST "Their Mistakes"
3. NAKED LADY WRESTLERS "Dan With the Mellow Hair"
4. M.A.D. "Holocaust"
5. KILLJOY "Rich Plastic People"
6. FANG "Fun With Acid"
7. CAPITOL PUNISHMENT "El Salvador"
8. RIBZY "Collapse"
9. CRUCIFIX "Annihilation"
10. SQUARE COOLS "I Don't Wanna Die for My Country"
11. LOS OLVIDADOS "Pay Salvation"
12. CODE OF HONOR "What Price Will You Pay?"
13. 7 SECONDS "Fuck Your Amerika"
14. UNAWARE "Race War"
15. FRIGIDETTES "Turmoil"
16. 5th COLUMN "Don't Conform"
17. GHOST DANCE "Shrunken Heads"
18. DEAD KENNEDYS "A Child and His Lawn Mower"
19. REBEL TRUTH "All I Know"
20. PARIAH "Learning Process"
21. LENNONBURGER "Reagum"
22. IMPATIENT YOUTH "Praise the Lord & Pass the Ammunition"
23. BAD POSTURE "GDMFSOB"
24. DEMENTED YOUTH "Assassination Attempt"
25. MILLIONS OF DEAD COPS "The Only Good Cop..."
26. KARNAGE "The Few, The Proud, The Dead"
27. DOMINO THEORY "Scare"
28. NBJ "Dead Porker"
29. WHIPPING BOY "Human Farm"
30. ANGST "Worker Bee"
31. FREE BEER "Premature Enlistment"
32. FLIPPER "Sacrifice"
33. VENGEANCE "No One Listens"
34. JUVENILE JUSTICE "S/M Nightmare"
35. SECTION 8 "Fat, Drunk, & Stupid"
36. TONGUE AVULSION "Libyan Hit Squad"
37. MANIAX "Off to War"
38. VICIOUS CIRCLE "Strike Out"
39. UXB "Breakout"
40. SCAPEGOATS "Shitcan"
41. CHURCH POLICE "The Oven is My Friend"
42. DEADLY REIGN "Systems Suck"
43. NO ALTERNATIVE "Dead Men Tell No Tales"
44. WRECKS "Punk is An Attitude"
45. URBAN ASSULT "SLT"
46. BENT NAILS "No More Riots"
47. MIA "New Left"