SOTATILA/THINK AGAIN - black rainbow split 7"ep ¥800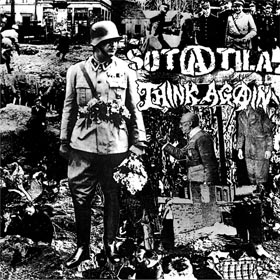 2012年3月24日からの両バンドによる"Black Rainbow Tour"にあわせて、HARDCORE SURVIVESからsplit 7"epがリリース!
オーストリアRUIDOSA INMUNDICIAのメンバーに、RIISTETYTにも在籍していたJukkaがフィンランド語でVoをとる多国籍バンド、SOTATILAは、演奏力の高いハイエナジーなraging thrash hardcore&フィンランド語Voで破壊力あります!インドネシアのパンクスや原発についての曲など3曲収録。
THINK AGAINはjapanese HC独特の熱量が更に増した印象もうける、熱くほとばしるジャパニーズハードコアパンク3曲を収録!!
DECAPITATED - issue spiring/2012 ZINE ¥300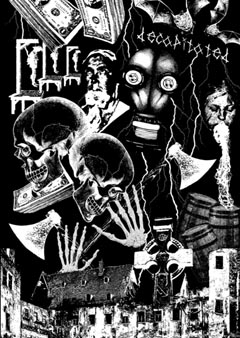 再入荷!HARDCORE SURVIVES発行のZINEといえばカオティックヒーローですが、このたび国内のバンド/情報を海外に発信するために創刊された、全編英語によるファンジン、『DECAPITATED zine』の2012年春号!A5サイズ、14ページ!
・interview with Souichi (Forward/Smash detox/Under the surface)
・interview with Skizophrenia!
・Bleeding on punk (東京若手バンドへのショートインタビュー、Vendetta/Dropend/Rough stuff/Eyesore/Asmodeus/Raw distractions)
・Record review.
といった内容です!
SOTATILA (austria/finland) & THINK AGAIN
"BLACK RAINBOW TOUR 2012"
3/24(sat) 横浜LIZARD"PIPECUT GIG 2012 SPRING"
w/SOTATILA、SYSTEMATIC DEATH、PILEDRIVER
3/25(sun) 新潟WOODY"BLOW BACK presents "
w/SOTATILA、BLOW BACK、DERIDE、SCRUMHALF
3/27(tue) 盛岡CHANGE"RAPPA presents PUNK PROM CHAOS"
w/SOTATILA、RAPPA、NO GRAVE FOR US、AYAHUASCA、L&SLAVES
3/28(wed) 仙台BIRDLAND"SPIKE SHOES presents THE WAY OF THE DRAGON 44"
w/SOTATILA、SPIKE SHOES、CONSOCIO SENTENCIA、bye-ASS、A.O.W
3/30(fri) 水戸90EAST"RECORD KNOX presents IN TO THE FUTURE vol.16"
w/SOTATILA、悲鳴、ATARAXIA、STRANGE FACTORY、I DON'T CARE
3/31(sat) 北浦和KYARA"PEST presents 関東ガラシャツ集会"
w/SOTATILA、PEST、三日月爆音団、NO WAY、FREAKS、えんだぶあ
4/1(sun) 新大久保earthdom"HARDCORE SURVIVES presents BLOODY REVOLT vol.24"
w/SOTATILA、FORWARD、JABARA.、ISTERISMO、DROP END
4/3(tue) 広島BORDER
w/SOTATILA、ORIGIN OF [M]、PERSEVERE、惡AI意、etc...
4/4(wed) 津山K2"未来ハ僕ラノ手ノ中"
w/SOTATILA、LAST、SKIZOPHERENIA!、DEATH DUST EXTRACTOR
4/5(thu) 四日市VORTEX
w/SOTATILA、END OF SEEDS、CONTRAST ATTITUDE
4/6(fri) 大阪BEARS"BAD DIRTY HATE presents はみ出し者よ獣になれ"
w/SOTATILA、BAD DIRTY HATE、Nightmare
4/7(sat) 名古屋HU CKFINN"DEAD CHAIN"
w/SOTATILA、九狼吽、REALITY CRISIS、END OF SEEDS、ROTARY BEGINNERS、DIEDRO LOS DIABLOS
4/8(sun) 初台WALL"THINK AGAIN presents MY WAR vol.5" BLACK RAINBOW TOUR FINAL!!
w/SOTATILA、鉄アレイ、VIVISICK、SCREWITHIN
「はみ出し者よ獣になれ!vol.23/BLACK RAINBOW TOUR 2012」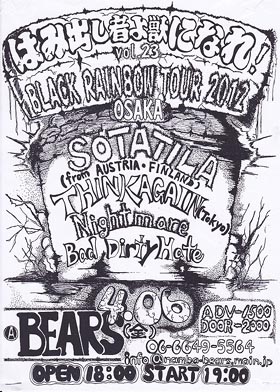 4月6日(金) 難波BEARS
・SOTATILA (オーストリア)
・THINK AGAIN
・BAD DIRTY HATE
・Nightmare
7時START
前売り¥1500・当日¥2000